The poster session will be on Tuesday afternoon (see schedule). The posters will stay up all week in the Department of Mathematics.
The online poster presentations will take place through dedicated Audio/Video channels on the TQC Discord server. You can present your poster during the poster session or at any other time during the conference; all instructions can be found on the Discord server.
Note that not all accepted posters will be presented at the conference due to author availability constraints. If you cannot present your poster, you don't need to email us.
1.
(No) Quantum space-time tradeoff for USTCON Poster
2023.
2.
8 Algorithms for Transversal Diagonal Logical Operators of Stabiliser Codes Workshop
2023.
3.
A bulk-wise unitary theory of measurement in holographic gravity based on quantum error correction Poster
2023.
4.
A coherence-based game and applications to semi-device-independent quantum key distribution Poster
2023.
5.
A Complete Equational Theory for Quantum Circuits Workshop
2023.
6.
A construction of Combinatorial NLTS Poster
2023.
7.
A general quantum circuit framework for consistent logical reasoning in Wigner's friend scenarios Poster
2023.
8.
A Generalized Adversary Method for Quantum Query Complexity Poster
2023.
9.
A generic quantum Wielandt's inequality Poster
2023.
10.
A Graphical #SAT Algorithm for Formulae with Small Clause Density Workshop
2023.
11.
A Hierarchy of Multipartite Correlations Based on Concentratable Entanglement Poster
2023.
12.
A Hierarchy of Multipartite Nonlocality and Device-Independent Effect Witnesses Poster
2023.
13.
A hierarchy of resource theories of quantum incompatibility Poster
2023.
14.
A hybrid framework for estimating nonlinear functions of quantum states Poster
2023.
15.
A hybrid quantum algorithm to detect conical intersections Poster
2023.
16.
A learning theory for quantum photonic processors and beyond Poster
2023.
17.
A mathematical framework for quantum Hamiltonian simulation and duality Poster
2023.
18.
A Note on Quantum Phase Estimation Poster
2023.
19.
A novel approach to noisy gates for simulating quantum computers Poster
2023.
20.
A Parameter Setting Heuristic for the Quantum Alternating Operator Ansatz Poster
2023.
21.
A path towards distributed quantum annealing Poster
2023.
22.
A quantum algorithm for Metropolis sampling via fragmented matrix monomials Poster
2023.
23.
A Quantum Online Portfolio Optimization Algorithm Poster
2023.
24.
A random matrix model for random approximate t-designs Poster
2023.
25.
A theory of quantum differential equation solvers: limitations and fast-forwarding Poster
2023.
26.
A Unified Graph-Theoretic Framework for Free-Fermion Solvability Workshop
2023.
27.
Accelerating Quantum Algorithms with Precomputation Poster
2023.
28.
ADAPT-VQE: Impact of Noise, Importance of Symmetries, and Circuit Depth Reduction via Operator Removal Poster
2023.
29.
Adaptive advantage in entanglement-assisted communications Poster
2023.
30.
Adaptivity as a key ingredient for fault-tolerant non-Clifford gates Poster
2023.
31.
Adiabatic quantum computing with parameterized quantum circuits Poster
2023.
32.
Adiabatic state preparation of fermionic many-body systems through tensor eigendecomposition Poster
2023.
33.
All Projective Measurements Can be Self-tested Workshop
2023.
34.
Almost qudits in the prepare-and-measure scenario Workshop
2023.
35.
Alternating Layered Variational Quantum Circuits Can Be Classically Optimized Efficiently Using Classical Shadows Poster
2023.
36.
An efficient combination of quantum error correction and authentication Poster
2023.
37.
An elegant scheme of self-testing for multipartite Bell inequalities Poster
2023.
38.
An Entropic Lens on Stabilizer States Poster
2023.
39.
An improved quantum algorithm for low-rank rigid linear regressions with vector solution outputs Poster
2023.
40.
An operational definition of entropy for post-quantum theories Workshop
2023.
41.
Approximate degree lower bounds for oracle identification problems Conference
2023.
42.
Asymmetric Quantum Secure Multi-Party Computation With Weak Clients Against Dishonest Majority Poster
2023.
43.
Barren plateaus in quantum policy gradients Poster
2023.
44.
Basic quantum subroutines: finding multiple marked elements and summing numbers Poster
2023.
45.
Bell inequalities with overlapping measurements Poster
2023.
46.
Benefits and Detriments of Noise in Quantum Classification Poster
2023.
47.
Beyond Heisenberg Limit Quantum Metrology through Quantum Signal Processing Poster
2023.
48.
Biased Random Access Codes Poster
2023.
49.
Bipartite entanglement and its detection by local generalized measurements Poster
2023.
50.
Block-encoding structured matrices for data input in quantum computing Poster
2023.
51.
Breaking barriers in two-party quantum cryptography via stochastic semidefinite programming Poster
2023.
52.
Causal influence and signalling in networks of processes Poster
2023.
53.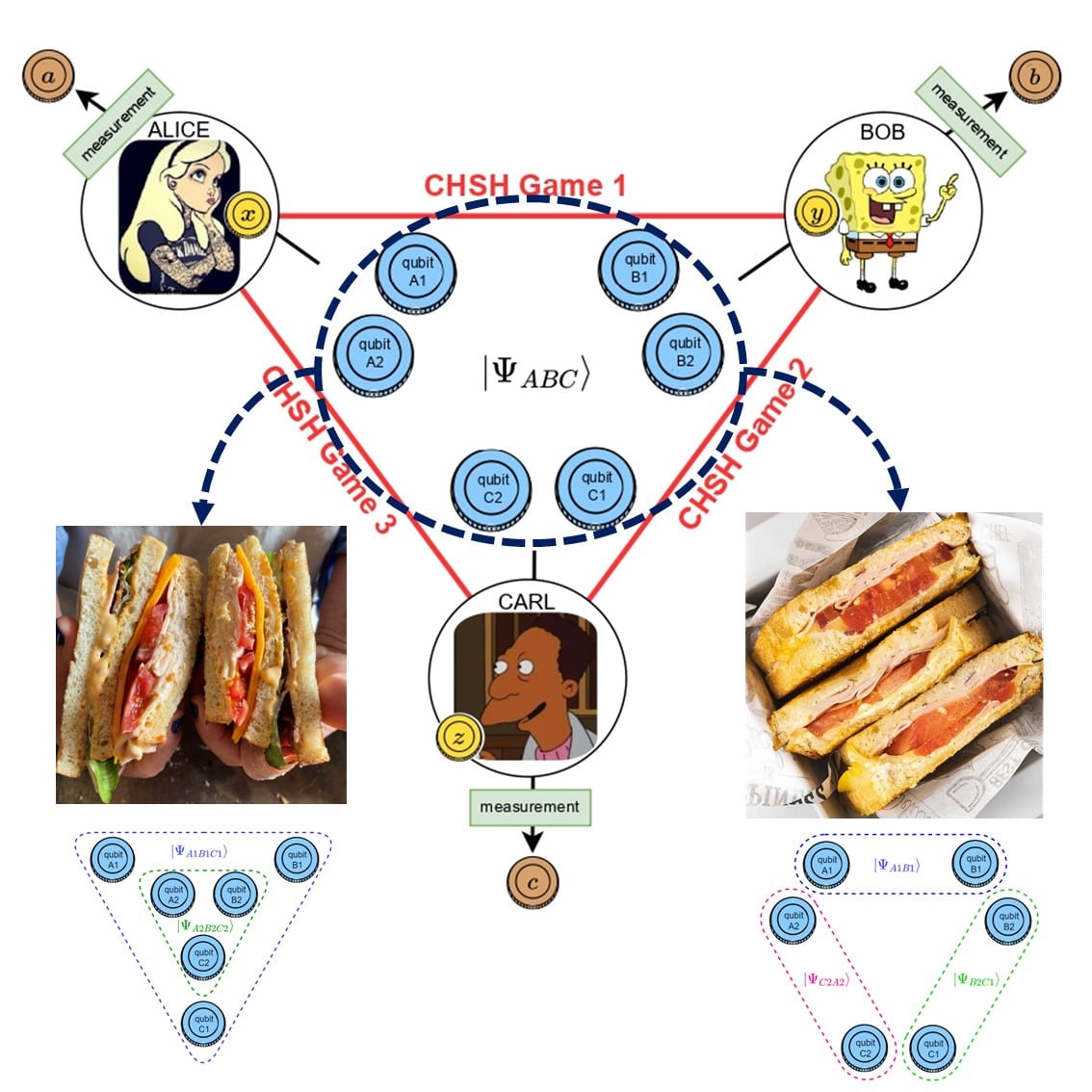 CHSH game with 3 players in a triangle with bi-partite and tri-partite entanglement Poster
2023.
54.
Circuit depth versus energy in topologically ordered systems Workshop
2023.
55.
Classical complexity assumptions necessary for PRSGs Poster
2023.
56.
Classical simulation of short-time quantum dynamics Workshop
2023.
57.
Classically Simulating Quantum Supremacy IQP Circuits through a Random Graph Approach Poster
2023.
58.
Closed-form analytic expressions for shadow estimation with brickwork circuits Workshop
2023.
59.
Compatibility Complexity and the Compatibility Radius of Qubit Measurements Poster
2023.
60.
Compatibility of Cyclic Causal Structures with Spacetime in General Theories with Free Interventions Poster
2023.