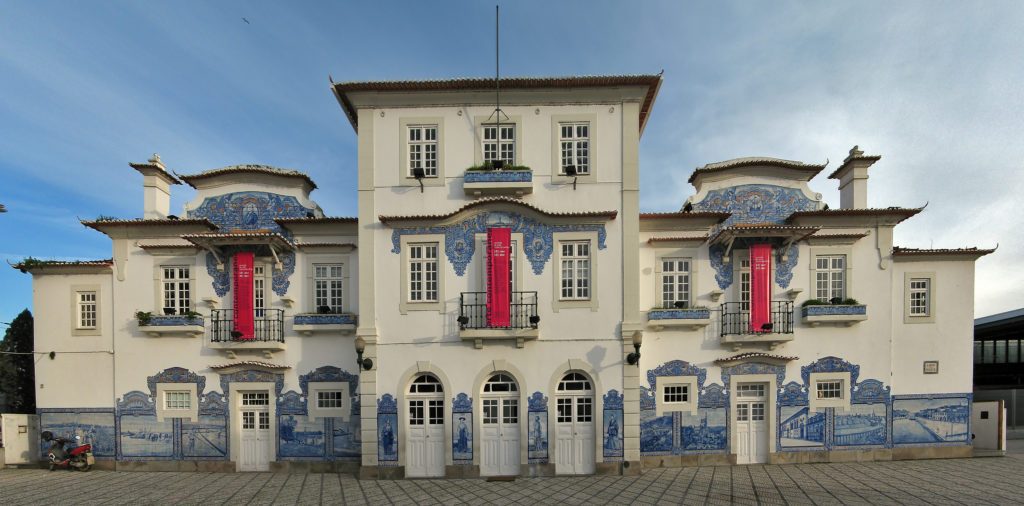 Travelling to the conference
Official information on how to reach the University here.
Train and bus ticket offices
International train travel to Aveiro: get information at Seat 61
National train travel: see schedules and buy tickets at CP
National bus travel: see schedules and buy tickets at Rede Expressos. Most buses have free wifi.
From the airport to Aveiro
Fly to Lisbon (LIS) or Porto (OPO).
From Lisbon airport, take the Metro or a taxi to Oriente (10min), and from there take a direct train to Aveiro (around 2h, regular trains, best to book in advance).
Stopping on the way: You can take a long break at Oriente, it's delightful. There are restaurants by the riverside and cheap fast-food joints in the large shopping mall. There are lockers at the station.
From Porto airport, take the Metro to Campanhã station (33min, line E, direction Estádio do Dragão, buy ticket at the machine). From there you can take an Urban or Regional/IR/IC/AP train to Aveiro (Urban is cheaper, around 1h, other trains are more expensive and faster). Alternatively, you can take a direct taxi from the airport.
Stopping on the way: If you want to stop in Porto, get off the Metro at Trindade, and from there you can connect to another Metro line or go for a walk. If you do this, you can later take the Urban train directly from São Bento station, which is much, much prettier than Campanhã.
From Aveiro train station to the university
As the website of the university students' union says, "every time someone says that Aveiro is the Venice of Portugal, a fish dies laughing in the Ria". That being said, the city is flat and easily walkable.
On foot: 30min flat walk.
By bus: there is a direct bus #11, which doesn't show up on Google Maps. We'll provide more detailed information in July 2023. In the meantime, the schedule is here, if you can decipher it.
By taxi: there are taxis at the station.
By bike: see here for information on free public bikes.
Conference locations, hotels and restaurants
Meals
There are two large canteens in campus, Castro and Santiago, open from 12:00 to 14:30, and from 18:30 to 20:30. Meals cost 3.00€ for visiting students and 5.10€ for other visitors. Meal tickets can be bought in advance, and we will include lunch tickets in the welcome pack; we will post more information in July. There are also several cafés in campus.
Hotels and accommodation
We made block reservations at several hotels in Aveiro for TQC, at special rates. To guarantee a room at these rates, contact the hotels directly by the deadlines indicated below (if you book through other platforms you will get the standard rates).
Note that these are not necessarily the cheapest offers in Aveiro and surroundings, just the ones that have agreements with the university. We've seen other options for about 200 € for five nights, so we encourage you to widen your search if you have limited travel support from your institution.
Hotel Afonso V
Suites & Hostel Cidade de Aveiro
Hostel, 15min walk to the conference
No deadline: first-come, first-served.
To book, email info@hostelcidadeaveiro.pt and indicate the event code "UA TQC 2023"
Room rates per night, including breakfast:

Single room: 57 €
1 person in double room: 59.5 €
2 people in double room: 86 € (queen bed)
3 people in triple room: 121 €
4 people in quadruple room: 144 €
Option to book without breakfast (about 7.5 € cheaper per person per night)
1887 Estrela Palace Hotel
Luxury boutique hotel, 20min walk to the conference
Deadline: 24th April. Only 5 rooms available.
To book, email hotel.estrelapalace@unlockhotels.com and indicate the event code "TQC2023 UniversidadeAveiro"
Room rates per night, including breakfast:

2 people in Junior Suite Vista Canal: 240 €
2 people in Suite Master: 270 €
Hotel Imperial
3-star hotel, 15min walk to the conference
No deadline: first-come, first-served.
To book, email reservas@hotelimperial.pt and indicate the event code "TQC 2023 UA"
Room rates per night, including breakfast:

Single room: 45 €
Twin room: 65 €
Possibility to add dinner and/or lunch (about 15 € per person per meal, including soup, main dish, dessert and coffee; welcome to Portugal)
Hotel Jardim
Hotel Meliá Ria
Hotel das Salinas
Invitation letters for visa purposes
Some participants require an invitation letter in order to obtain a Schengen visa to travel to Portugal. There will be a field on the registration form to add all the details necessary if you need a letter. Official information on short-term Schengen procedures can be found here.